RESOURCES
Guide to ADA Compliance Standards
By MatrixPoint

How To Navigate ADA Compliance Requirements
Since March 15, 2012, websites have been legally mandated to follow the Americans with Disabilities Act (ADA) Compliance, but many businesses have failed to respond to the legal standards and are currently in breach of the latest guidelines, putting them at risk for major fines, fees, and penalties.
This post will explain what the ADA compliance standards are, who they apply to, why they were created, what they require, and why you should ensure that your website passes all the required specifications as soon as possible.
Who Do ADA Compliance Standards Apply To?
ADA compliance standards apply to an extremely broad swath of organizations, including any that meet the following criteria:
All Government Agencies, including Local, County, State, and Federal Agencies

Any businesses that rely on the general public for their benefit (which can be interpreted incredibly broadly)

Privately run companies that currently have 15 or more employees

Nonprofit and charitable organizations that have 15 or more employees OR which operate for the public benefit
If your business meets any of the criteria above, then your website needs to comply with ADA guidelines or you are at risk of facing lawsuits, fines, fees, and penalties.
Why Were ADA Compliance Guidelines Put in Place?
These laws were originally drafted in 1991, and developed before the Internet became ubiquitous, but the laws were designed to evolve with advances in technology.
The internet introduced new challenges to ADA compliance, especially thanks to the explosion of online content, products, and services, and especially, corporate-run websites.
Many organizations have failed to comply with the standards, however, and a 2020 report by the WebAIM project at the Center for Persons with Disabilities at Utah State ran accessibility standards against the top million websites and found that 98.1% of homepages had detectable Web Content Accessibility Guidelines (WCAG) 2 failures.
What Do ADA Compliance Standards Require of Websites?
There are several important requirements included in the ADA compliance standards, with the main guidelines of the laws requiring that websites and all web content is:
Perceivable - People, including people with disabilities, can access content in various ways

Operable - Visitors can easily navigate and operate websites, accessing the content they're interested in engaging with

Understandable - Content is easy to understand, readable, etc.

Robust - Users can access your website and its content from a variety of devices and platforms, including assistive technologies
Please keep in mind that this is just a very general summary of what the ADA compliance standards require of websites and that the laws include a long list of specific standards which must.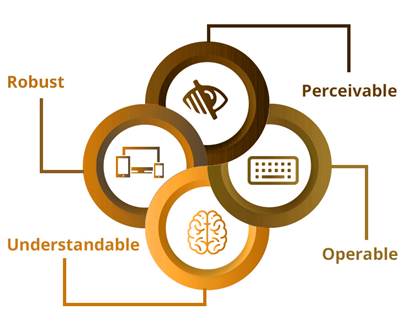 What is the Risk of Failing to Comply with ADA Standards?
If your website is not in compliance with the ADA standards, then your organization risks lawsuits, fines, fees, and penalties.
January 2021 set the new record for ADA-related lawsuits, with 1,108 cases filed in that month alone.
The most recent full year statistics show that in 2020 there were 10,982 ADA lawsuits filed in federal court, which is down 1% from 2019, in spite of the impact of COVID-19.
Fines for failure to comply with ADA guidelines can be as much as $75,000 for the first violation and $150,000 for additional violations.
These don't include attorney fees or additional staff mandated for businesses deemed in violation of the standards.
In the lawsuits, there's a heavy focus on retailers, as they've comprised over 77% of the suits filed in 2020.
Can Individuals Bring an ADA Lawsuit Directly?
Any individual who feels they have been violated by a site's failure to comply with ADA standards may file a complaint with the US Department of Justice as an individual, or on behalf of someone else, by providing just a few basic pieces of information, including:
Their name and contact information

The name and contact information of the violating business

A summary of how they were violated

An explanation of how they could be better served (Braille, large print, internet reader settings, etc.)
In fact, there is a California man who has submitted around 10 ADA complaints each day over the past 30 years, who is named in 1,900 other lawsuits as well.
To be clear, an organization like the National Association for the Deaf can also bring a suit against organizations as well, these aren't all initiated by individuals. 
This threat has caused a great deal of anxiety for organizations across every industry, since any individual who feels wronged by not being able to access content properly can file a complaint, and the expense of defending against that complaint is steep, along with the high fines ($75,000 for the first complaint, $150,000 for additional complaints).
Furthermore, our research shows that the fines for an average ADA complaint also tend to be smaller than the cost of attorneys and other corrective measures like being required to hire a UX pro to come in and fix any issues included in the complaint.
Examples of Prominent ADA-related Lawsuits & Settlements
What Are Your Options For Getting ADA Compliant?
There are three typical strategies for ensuring that your organization is up to date with the most recent version of the ADA compliance standards:
Attempt to do it yourself with internal resources

License software like AccessibE or Equal Web

Work with a professional ADA consultant like MatrixPoint
Working with a team of ADA experts who can review your specific needs and provide custom-tailored solutions is likely to generate the best outcome.
Protect Your Organization with MatrixPoint
MatrixPoint is prepared to help you ensure that your organization is fully compliant with all ADA standards and guidelines, protecting you from legal action, fines, fees, and penalties that could result from a complaint.